In Africa, seeing people cook on charcoal under the open sky is a regular occurance. While gas is expensive, bushes and trees are plentyful. Because people are used to cutting trees and processing them to charcoal, properties with an abundant populations of trees tend to lose them over time. This was confirmed by the former owner.
It was therefore important to have our property guarded. Two guards were employed in November 2014 and custruction of their living quarters began.
Having access to enough water was of pivotal importance, so a 3,000 liter water tank was acquired. It can be replenished by means of an electrical pump and a generator.
Two cesspits were created, one for solids and one for sewage.
Showers and bathrooms, as well as a storage shed for the generator, were built on the side of the living quarters.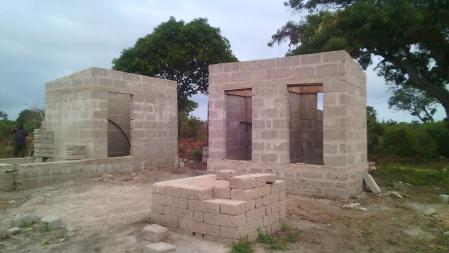 The framing and roof were soon finished. Its style of construction is termed "Sansibar Roof", according to the nearby island "Sansibar", where such roofs are common.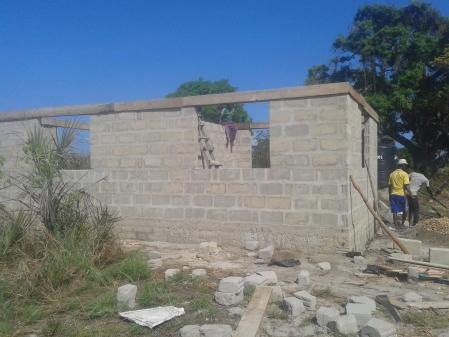 A "Sansibar Roof" consists of a circular beam which is fastened with cement and has palm leaves on top of it (a.k.a. "Makuti Roof"). Shaded air circulates between the ceiling and the hip roof, thus protecting the inside from the tropical heat. The overhang and small deck add some additional shade.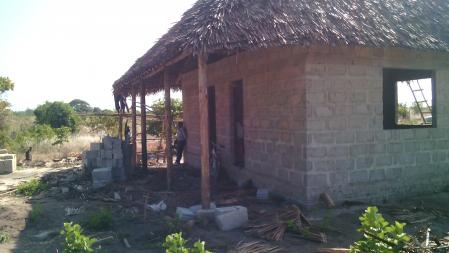 Doors, windows and electrical cables are to be installed and solar panels are to be mounted to the adjacent building (shower/bathrooms and storage). One of these rooms can serve as a temporary shelter, until more buildings are finished.