Dunia ya Heri – African Family & Health Care e. V.
Judith Klier
Poignring 32
82515 Wolfratshausen
Germany
Phone: +49 (0)8171 10000
Trade register #: VR 205734
Court: Amtsgericht München
Address in Tanzania
Dunia ya Heri
Plot No. 19
Yale Yale Puna
Kigamboni 
Dar es Salaam
PHONE: +255 755 206 409
Dunia ya Heri
P.O. Box 71573 
Dar es Salaam
TANZANIA
NGO registration # in Tanzania: I-NGO/00008009
Copyright
The copyright for the entire content of our website (images, texts, design, layout, etc.) the copyright is with: Dunia ya Heri – African Family & Health Care e. V.
Use by third parties only after written permission and reference to www.dunia-ya-heri.org.
Warranty
The information is presented by Dunia ya Heri - African Family and Health Care e. V. without any warranty of any kind, whether express or implied.
Links
Out website contains links to other sites on the Internet. For all these links applies: We emphasize hereby that we have no influence on the design and content of the linked pages. Therefore we expressly dissociate ourselves hereby from all contents of all linked sites. This declaration applies to all links on our homepage and to all contents of the pages to which those links lead.
Our Donation Account
Sparkasse Bad Tölz-Wolfratshausen
IBAN: DE 18 7005 4306 0011 3977 59
BIC: BYLADEM1WOR
Account: 11397759
Registration Number: 1065295041
Attachments
License to Operate a Children's Home
Non-Covernmental Organisations Act, 2002 - Certificate of Registration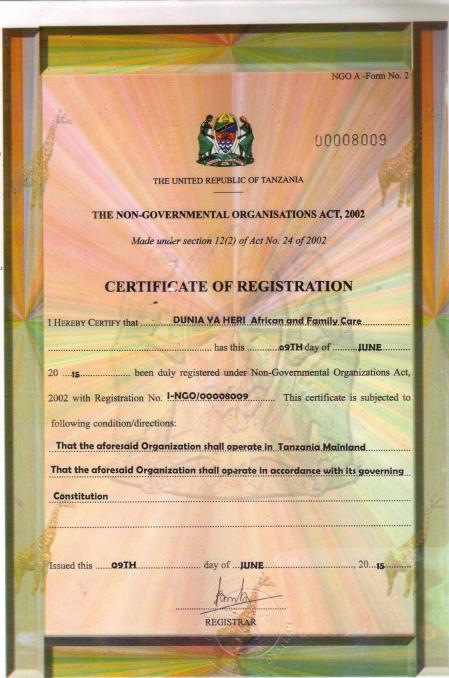 Notice of Exemption